BOYA M1 Microphone Official Product
950.00৳
Frequency Range: 65Hz ~ 18 KHz
Sensitivity: -30dB +/- 3dB / 0dB=1V/Pa, 1 kHz
Dimension: 18.00mmH x 8.30mmW x 8.30mmD
Cable: 6.0m
Battery: LR44
Output Impedance: 1000 Ohm or less
Description
BOYA M1 Microphone Full Spec and Price in Bangladesh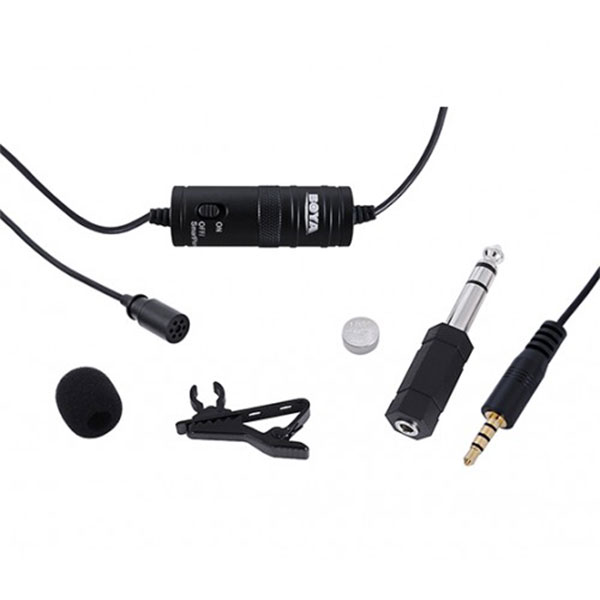 BOYA M1 Microphone Description
The Boya M1 is a 65-18 Hz microphone with an output impedance of 1000 ohms. The microphone runs on LR44 battery power.
The M1 comes with a nice carrying case, a mic clip (which can be removed), and 1 noise-canceling wind foam.
The BOYA M1 Microphone is a high-quality clip-on microphone for smartphones, DSLR cameras, camcorders, and other audio recorders.
BOYA M1 Microphone Full Specification
Frequency Range: 65Hz ~ 18 KHz
Sensitivity: -30dB +/- 3dB / 0dB=1V/Pa, 1 kHz
Dimension: 18.00mmH x 8.30mmW x 8.30mmD
Cable: 6.0m
Using the Microphone: Audio recorders, Yes
For DSLR: Yes
PC: Yes
Smartphone: Yes
Output Impedance: 1000 Ohm or less
Polar pattern: Omnidirectional
Connector: 3.5mm (1/8") 4-pole gold plug
Power Module: 18g
Battery: LR44
BOYA M1 Microphone Features
A high-quality condenser is ideal for video use.
Superb sound for presentations and video recording.
Switch on the microphone. Slide the ON/OFF up to ON
Clip-On Mic for Smartphones, DSLR, Camcorders, Audio recorders, PC etc.