Joyroom JR-QP191 10,000mAh Power Bank 22.5W Fast Charging
1,450.00৳
Model: JR-QP191
USB + Type-C total output: 5V=3A
Material: ABS + fireproof PC
Product size: 150*68.99*16.5mm
LED Display Monitoring
7 Days Warranty
Made in China
Description
Joyroom JR-QP191 10,000mAh Power Bank Price in Bangladesh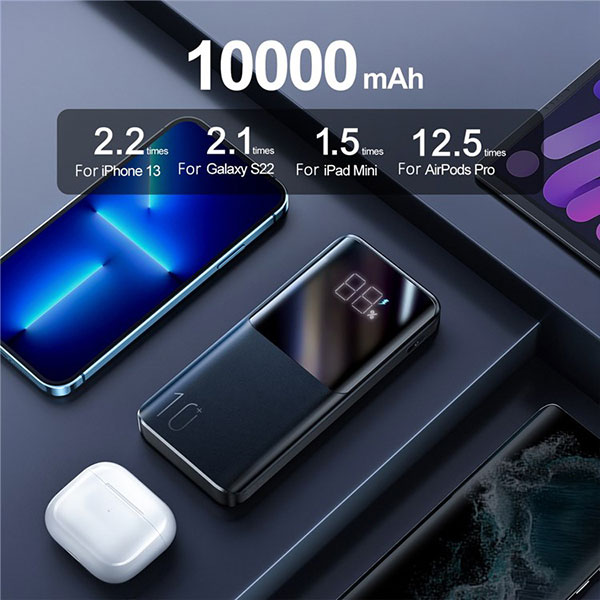 Joyroom JR-QP191 10,000mAh Power Bank Description
The JOYROOM JR-QP191 10000mAh LED Display Monitoring Power Bank 22.5Wis available in Bangladesh. Get the original products at the most affordable price only at Techtunes.tech and enjoy the quality with the promise of the best customer service in Bangladesh.
Joyroom JR-QP191 10,000mAh Power Bank Key Features
Support PD3.0 QC3.0, AFC, FCP, SCP, PE quick charge protocols. It can charge 3 devices simultaneously and you can share it with your family and friends. 3.0A fast charging speed ensures 2.2 times faster than an ordinary power bank, greatly shortening the charging time for your phones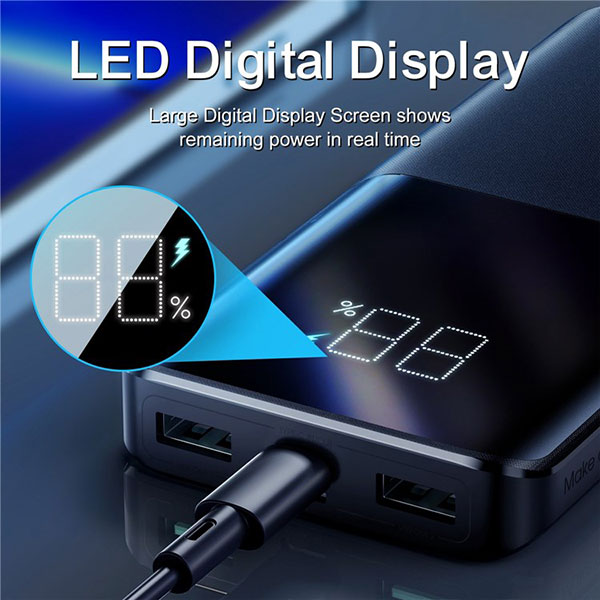 10000mAh/22.5W Real Capacity
10000mAh power bank can charge most phones 3-5 times and other USB devices multiple times for an average of 9 days of unrestrained usage per charge, and no need to worry about losing contact with anyone due to being out of power.
Fashionable Large LED Digital Display
This unique portable charger features an excellent LED indicator, a percentage-based readout shows you the precise remaining power. No more guessing about the remaining power and let you fully recharge the power bank before you go.
With the exquisite and grippy design, this charger is easy to hold, convenient to toss into a pocket or bag, and incredibly portable. The perfect partner for parties, dating, long-distance, business, and airplane trips.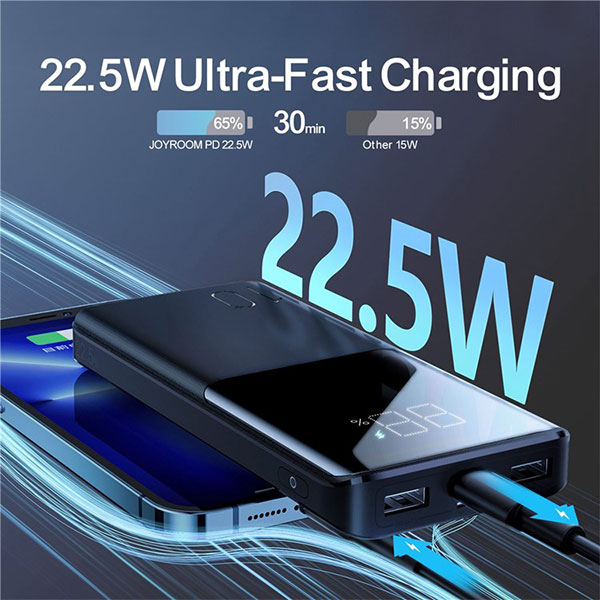 Certified by CE, FCC, using flame retardant materials and the built-in smart circuitry ensures protection against overcharging, short-circuiting, and discharging thus protecting your devices. You can charge your devices safely.
Joyroom JR-QP191 10,000mAh Power Bank Specifications
Model: JR-QP191
LED Display Monitoring
Li-polymer battery capacity: 10000mAh 3.7V (37Wh)
Rated capacity: 6000mAh (5V=3A)
Type-C input: 5V=3A, 9V=2A, 12V=1.5A
Micro input: 5V=2A, 9V=2A, 12V=1.5A
Type-C output: 5V=3A, 9V=2.22A, 12V=1.67A
USB1/USB2 output: 4.5V=5A, 5V=4.5A, 5V=3A, 9V=2A, 12V=1.5A
USB + Type-C total output: 5V=3A
Material: ABS + fireproof PC
Product size: 150*68.99*16.5mm