Ulanzi PT15 Universal Teleprompter
4,990.00৳
Use Your Smartphone as Prompter Monitor
Supports DSLR & Mirrorless Cameras
3 x Cold Shoe Accessory Mounts
Lightweight ABS Plastic Construction
Included Bluetooth Remote
Brand: Ulanzi
7 days replacement warranty.
Made In China.
Description
Ulanzi PT15 Universal Teleprompter Price in Bangladesh
he ULANZI PT-15 for Camera and Smartphone is now available in Bangladesh. Get the original products at the most affordable price only at  techtunes and enjoy the quality with the promise of the best customer service in Bangladesh.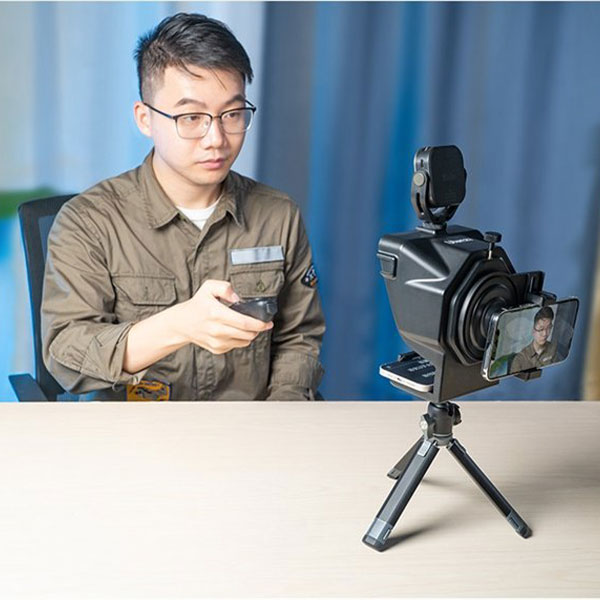 The ULANZI PT-15 for Camera and Smartphone fits the bill. Designed to use your smartphone, from 2.2 to 3.5″ wide, for the prompting text, you can mount this prompter on your DSLR or mirrorless camera lens using the included adapter rings, or on your smartphone, with the included smartphone expansion board. An included Bluetooth remote enables you to control optional prompting software of your choice.
Ulanzi PT15 Universal Teleprompter Key Features
Universal. This autocue/teleprompter is suitable for both smartphone and camera. Use a smartphone for the text and another smartphone or camera for filming.
Multifunctional. The Ulanzi PT-15 is ideal for vloggers, singers, journalists, presenters and more.
Operate remotely. Play, pause, stop, speed up, slow down and quickly switch between pages. It's all possible with the included
Bluetooth remote control.
Mount on a tripod. Use the 1/4″ screw hole on the bottom to mount the teleprompter on a tripod.
For smartphones up to 9 cm wide. Mount smartphones with a width of 56-90 mm.
Ulanzi PT15 Universal Teleprompter Specifications
Suitable for Smartphones (iPhone and Android), SLR cameras, system camera
Package contents: Teleprompter, smartphone attachment, Bluetooth remote control, cleaning cloth, 5x adapter ring for camera
Min-max width: smartphone 56-90 mm
Max loadable weight: cold shoe side 600 grams
Max loadable weight: top 1100 grams
Material: Plastic, glass
Color: Black
Szie (L x W x H): 149 x 98 x 169 mm
Weight: 430 grams
The ULANZI PT-15 for Camera and Smartphone comes with 7 day of replacement warranty