WiWu Airbuds Pro 2 Lite ANC Earbuds
2,500.00৳
Brand: WiWU
Model: Wiwu Airbuds Pro 2 Lite
Connectivity: Bluetooth
Microphone: Yes
Working/Bluetooth Range: 10 Meter
Bluetooth Version: Bluetooth 5.2
Sound Mode: Stereo
Waterproof: No
6 Months Replacement Warranty
Made in China
Description
WiWu Airbuds Pro 2 Lite ANC Earbuds Price in Bangladesh
With in-ear features and super Active ANC wireless earbuds can be the best suitable for both iPhone and Android users. It comes with super compact and very good audio quality and battery backup.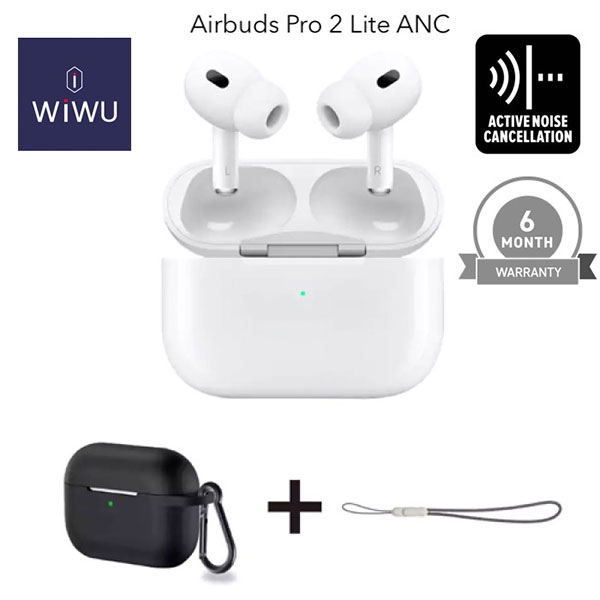 WiWu Airbuds Pro 2 Lite ANC Earbuds Description
Introducing the WiWu Airbuds Pro 2 Lite ANC Earbuds, the perfect audio companion for those seeking an immersive and noise-free listening experience. These advanced earbuds boast active noise cancellation (ANC) technology, effectively reducing external distractions and allowing you to focus on your music or calls.
With their sleek design, superior sound quality, and long-lasting battery life, the WiWu Airbuds Pro 2 Lite ANC Earbuds offer exceptional value for audio enthusiasts on the go. Elevate your audio experience with these cutting-edge wireless earbuds.
Key Features of WiWu Airbuds Pro 2 Lite
In-ear audio performance personalized spatial audio, and high dynamic range amplifiers work well with AirPods pro, making the compact design of the airbuds pro 2 can also have good sound.
High-performance chip, high capacity battery integrated in a compact body, plus excellent power management, say goodbye to the trouble of the battery.
About 180 hours of standby time.
About 4 hours of listening to music time.
Wearing comfortable fit, good sound easy to listen.
Active noise cancellation microphone and rear vent.
Easy to tie the earphone in the backpack or handbag can be taken with one.
Under 13% power is an orange light 13% or more is green light.
New design perceptible touch are, Fingertip's precise touch operation, Easy to listen and cut songs with earphone.
Let the airbuds pro 2 closeto your iPhone or Ipad, then tap"Connect" to pair it successfully.
WiWu Airbuds Pro 2 Lite Specifications
Brand: WiWU
Model: Wiwu Airbuds Pro 2 Lite
Connectivity: Bluetooth
Microphone: Yes
Working/Bluetooth Range: 10 Meter
Bluetooth Version: Bluetooth 5.2
Sound Mode: Stereo
Waterproof: No
Dustproof: No
Shockproof: No
Battery: 250mAh (Case), 33mAh (earbuds)
Rechargeable Battery: Yes
Charging Time: 2 Hour
Playing Time: 5 Hours
Color: White
Others: Chips: BT5.2
Arohia 1562F
Working time: around 5 Hour
HD sound quality
Noise cancelling
Ultra-long battery life