Baseus One-for-Three Data Cable USB to M+L+C
490.00৳
Brand: Baseus
Model: CASX010009
Material: zinc alloy, nylon
Length: 1.2 m
Input: USB
Output: micro USB + iP + Type-C
7 Days Warranty (If there are any Manufacturing Defects)
Description
Baseus One-for-Three Data Cable Price in Bangladesh
Charge 3 devices at the same time! The Baseus cable has 3 connectors: Lightning, USB-C, and micro USB. The intelligent intensity distribution allows you to quickly renew the energy of all your devices at the same time.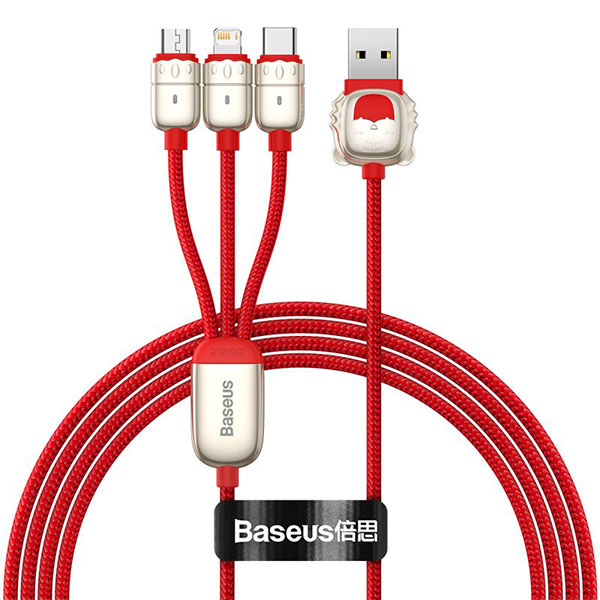 It will also help you transfer files at 480Mbps in no time. The copper core of the cable dissipates heat well and ensures stable transmission. The length of 1.2 m allows you to comfortably use the accessory while charging.
The cable is also resistant to bending, oxidation, and wear. In addition, the design with a tiger motif is eye-catching.
The 3 port cable from Baseus will charge devices such as iPhones, and smartphones with USB-C ports, for example, Samsung, and other devices with micro USB interfaces, for example, OPPO. It allows you to charge several devices simultaneously by intelligently and evenly distributing the current. In addition, the copper core is responsible for stable transmission and dissipates heat well.
Using the Baseus cable, you can charge your device and transfer files to it at the same time. The speed of 480 Mbps allows you to transmit a 1G file in about 24 seconds.
The use of zinc alloy provides resistance to oxidation, and wear and extends the life of the product. The solid nylon finish makes the cable flexible, durable, and resistant to bending. The charging indicator lets you quickly find the cable in the dark, and the clever design allows you to charge your smartphone without removing the case. Velcro is included for convenient storage.
Baseus One-for-Three Data Cable Specification
Brand: Baseus
Model: CASX010009
Material: zinc alloy, nylon
Transmission rate: iP / 480 Mbps
Color: Red, Black
Current: 3.5 A (Max.)
Input: USB
Output: micro USB + iP + Type-C
Length: 1.2 m