Sale!
Xiaomi 20W Vertical Wireless Charger Stand
Watch a movie while charging
Quick induction instant charging,

20W super fast wireless charging,

≤4 mm induction distance,
 Charges a phone placed vertically or horizontally,
Compatible with most devices supporting wireless charging,

Charges Mi 9 Pro to 50% in 35 minutes,

Place your phone vertically,
Just place your phone horizontally
Description
Xiaomi 20W Vertical Wireless Charger Stand Price in Bangladesh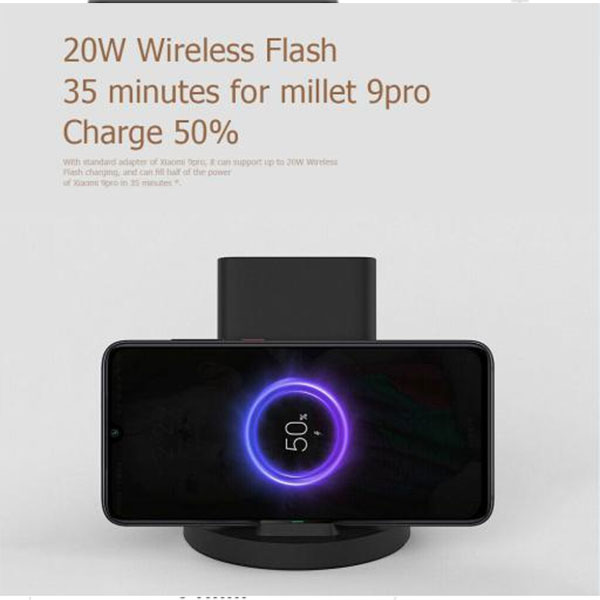 Xiaomi 20W Vertical Wireless Charger Stand Full Description
Xiaomi 20W Vertical Wireless Charger Stand Horizontal for Mi 9 (20W) MIX 2S Samsung S10
Xiaomi 20W Vertical Wireless Charger, which gives Mi 9 Cellphone a max 20W charging rate, and gives MIX 2S and MIX 3 a max 10W charging rate, gives other Qi EPP compatible cellphones a 5W-10W charging rate.
The basic bundle of Xiaomi 20W Vertical Wireless Charger with cable, the advanced bundle includes a wireless charger, a cable and a travel charger as the bundle picture shows, other 2 bundles are adding according adapter for different region.
To use the Xiaomi 20W Vertical wireless charger, the cellphone case can neither be of metal nor thicker than 4mm.
Universal 20W fast charging:
20W wireless fast charging is for Mi 9, Mi 9 Pro, Mi 10, Mi 10 Pro. Peak power may vary for other phone models due to differences in firmware versions.
Adapter is not included. The charger requires an adapter of 5V/2A or above.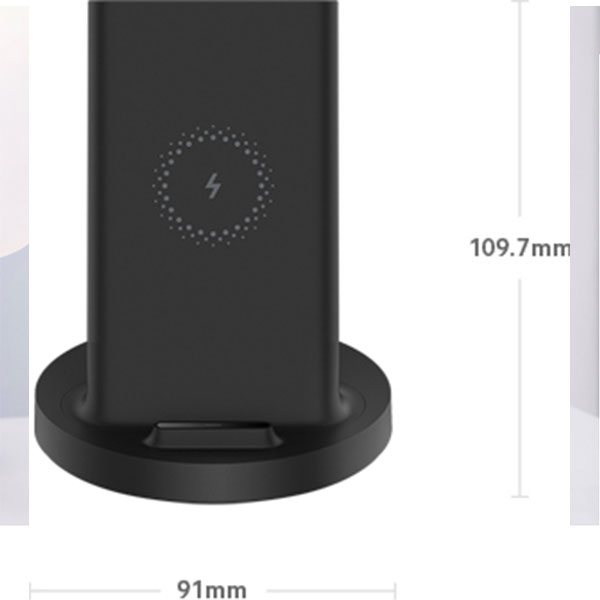 Charging speed may vary depending on device usage, charging conditions and other factors.
Charge phones in their cases: This wireless charger has a vertical induction distance of ≤4 mm. Wireless charging does not work if the phone case is thicker than the induction distance. Wireless charging also does not work with phone cases made of metal. Place phones with irregularly shaped cases carefully to prevent the phone from sliding off the charger during wireless charging.
Environmentally Friendly Material Test Report: Issued by Dongguan EMTEK Technology Co., Ltd. Test Report No.: ED190807010C.
Unless otherwise noted, all data above are measured values from Zimi laboratories. However, the data may vary subject to objective environmental changes.
Xiaomi 20W Vertical Wireless Charger Stand Full Specification
Brand: Xiaomi
Model: WPC02ZM
Input Port: USB-C
Input Rate: 5V/2A,9V/1.6A,12V-16V—1.7A MAX
Output Rate: 20W MAX
Distance: ≤4mm
Temperature: 0-35℃
Dimensions: 109.7x91x91 mm
Xiaomi 20W Vertical Wireless Charger Stand Full Features
A new wireless charging experience: Watch a movie while charging
Vertical design: Quick induction instant charging

20W Max

Powerful: 20W super fast wireless charging
Charges through case: ≤4 mm induction distance
Dual coils: Charges a phone placed vertically or horizontally
Universal fast charge: Compatible with most devices supporting wireless charging

20W wireless super fast charging:

Charges Mi 9 Pro to 50% in 35 minutes

Charge vertically: Place your phone vertically
Charge horizontally: Just place your phone horizontally
Xiaomi 20W Vertical Wireless Charger Stand Package Contents
Mi 20W Wireless Charging Stand (Universal 20W Fast Charge) × 1

USB cable × 1

User manual × 1