Damix M10 TWS Wireless Earbuds (Original)
650.00৳
Brand: Damix
Style: Ear Hook
Vocalism Principle: Dynamic
Control Button: Yes
Active Noise-Cancellation: No
Communication: Wireless
Volume Control: No
Sensitivity: 98dB
7 Days Warranty
Description
Damix M10 TWS Wireless Earbuds Price in Bangladesh
Looking for the newest and most affordable true wireless earbuds on the market? Look no further than Damix M10 TWS! These earbuds are packed with features and are available at an unbeatable price. With a warranty, you can be confident that your purchase is protected. Get your M10 TWS today!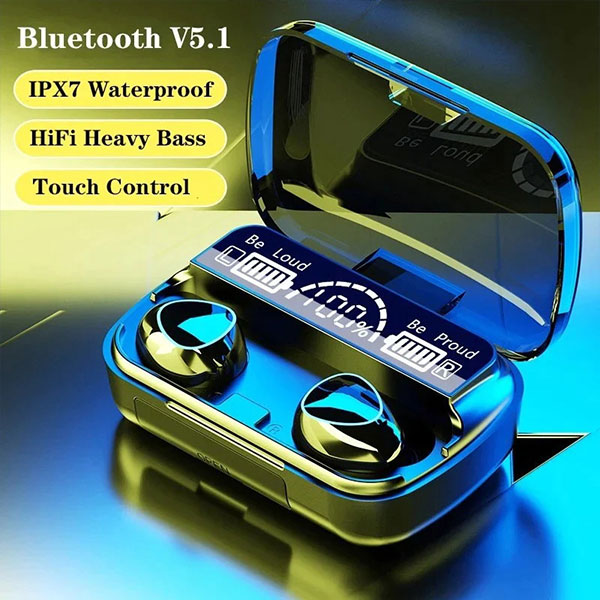 The Damix M10 TWS Digital Indicator True Wireless Earbuds are available in Bangladesh.
Damix M10 TWS Wireless Earbuds Specification
Brand: Damix
Style: Ear Hook
Vocalism Principle: Dynamic
Control Button: Yes
Active Noise-Cancellation: No
Communication: Wireless
Volume Control: No
Sensitivity: 98dB
Wireless Type: Bluetooth
Is wireless: Yes
Max Output: 1mW
Line Length: 0m
Support APP: No
Function: Sport
Number Of Drivers: 2
Plug Type: NONE
Impedance Range: up to 32 Ω
Connectors: USB
Model Number: M10
Earcups Type: Semi-open
Headphone Pads Material: SILICONE
Bluetooth Version: 5.1
Codecs: sbc
Support Memory Card: No
Driver Diameter: 10mm
Resistance: 32Ω
Waterproof: Yes
Frequency Response Range: 20 – 20000Hz
Total Harmonic Distortion: 1%
With Microphone: Yes
Features: With Microphone
Charging Method: Charging case
Magnet Type: Other
Damix M10 TWS Wireless Earbuds Features
Using CVC8.0 digital noise reduction technology
The latest TWS binaural stereo Bluetooth headset with the 5.1 chip gives you very efficient wireless performance.
The 5.1 chip manages battery life very well It adopts Bluetooth V5.1 chip, 10m connection distance, stable performance, high transmission, low consumption, and strong compatibility.
Ergonomically designed for a more comfortable fit on the auricle.
The two-ear split design allows the single ear to be used separately, equivalent to two independent Bluetooth headsets.
The charging compartment can be used as a mobile phone stand, or portable mobile phone stand, supporting horizontal and vertical placement
Watch live broadcasts and movies without the need to purchase an additional mobile phone stand.
IPX7 waterproof and sweatproof
Exercise without sweat Binaural separation designs single and binaural free cutover
Subvert the traditional host to connect vice headphones,dual host
The left and right ears,of the channel are free to use. Strong compatibility, IOS/Android universal, one-button control, simple and stylish.