Sale!
Z59 Ultra Smartwatch Series 8 Wireless Bluetooth Sports Smartwatch
Bluetooth Calling
Multi-functions
2.0 inch Large TFT screen
200mAh battery with Wireless charger
Silicone Strap
Warranty: 07 Days Replacement Warranty
Out of stock
Description
Z59 Ultra Smart Watch Specification and Price in Bangladesh
Z59 Ultra is a new 2022 Apple watch Ultra clone available in the market, which has been released on 26 September 2022. The gadget is a fitness smartwatch that can track sports activities and manage health status in real time.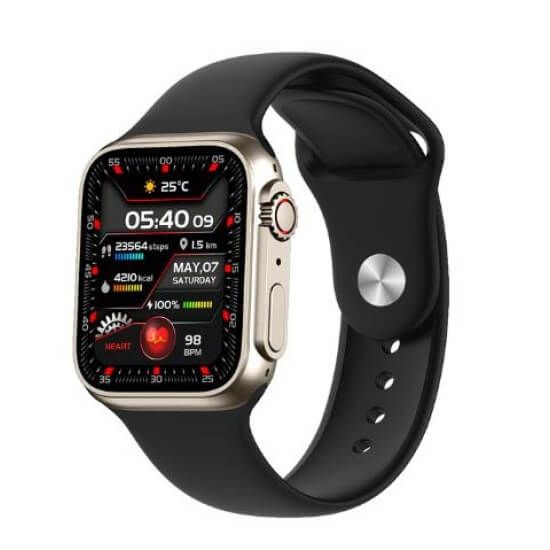 Z59 Ultra Smart Watch Full Description
The Z59 Ultra Smart Watch is a cutting-edge wearable device that combines functionality, style, and advanced features to enhance your daily life. Designed to keep you connected and help you achieve your health and fitness goals, this smartwatch offers a range of impressive capabilities.
Display
The Z59 Ultra features a high-resolution, vibrant color touchscreen display that provides a clear and intuitive interface. The screen is durable and scratch-resistant, ensuring long-lasting performance.
Design
With its sleek and modern design, the Z59 Ultra Smart Watch is a fashionable accessory suitable for any occasion. It is available in a variety of stylish bands and finishes, allowing you to personalize your look.
Health and Fitness Tracking
Equipped with an array of sensors, the Z59 Ultra monitors your health and fitness activities accurately. It tracks your heart rate, steps taken, distance traveled, calories burned, and sleep patterns, providing comprehensive insights into your overall well-being. You can set goals, receive reminders, and track your progress in real-time.
Sports Modes
For fitness enthusiasts, the Z59 Ultra offers various sports modes to optimize your workouts. Whether you're running, cycling, swimming, or engaging in other activities, this smartwatch can provide detailed data and analysis to help you improve your performance.
Notifications and Connectivity
Stay connected to your digital life with the Z59 Ultra Smart Watch. It pairs with your smartphone via Bluetooth, allowing you to receive notifications for calls, text messages, social media updates, and more, directly on your wrist. You can also control music playback, remotely take photos, and find your phone using the watch.
Battery Life
The Z59 Ultra is equipped with a powerful battery that provides an extended usage time on a single charge. The exact battery life may vary depending on usage, but it is designed to keep up with your daily activities without frequent recharging.
Water Resistance
This smartwatch has a high level of water resistance, allowing you to wear it during workouts and outdoor activities without worry. It can withstand splashes, rain, and even swimming, but it is not suitable for diving or prolonged water submersion.
Compatibility
The Z59 Ultra is compatible with both iOS and Android devices, ensuring seamless integration with your existing smartphone ecosystem.
Additional Features
The Z59 Ultra Smart Watch includes several additional features, such as weather forecasts, an alarm clock, a stopwatch, sedentary reminders, and a built-in compass. It is also equipped with a microphone and speaker, enabling you to make and answer calls directly from your wrist.
Overall, the Z59 Ultra Smart Watch offers a comprehensive set of features, a stylish design, and reliable performance, making it a versatile companion for your everyday life.
Z59 Ultra Smart Watch Full Specification
Device: Z59 Ultra
Shape: Square
Dimension: 45*38*13mm
Weight: 50g
Colors: Silver, Black, Gold, Orange
Display: IPS
Screen Size: 2.0 Inch
Screen Resolution: 435*485 pixels
Compatible Os Android & IOS
Sensors
Heart rate Sensor
G Sensor
Bluetooth: V5.0 & V3.0
GPS: NO
Speaker: Yes
Microphone: Yes
Multi-sports mode: Yes
Heart rate monitor: Yes
Blood Oxygen Monitor: Yes
Blood Pressure Monitor: Yes
Waterproof IP67 Waterproof
Additional Features
Bluetooth calling
Thermometer
Sedentary reminder
Sleep monitor
Alarm
Barometer
Brightness: Adjusting ….etc
Battery Capacity: 200 mAh
Normal usage: 2-5 days
App name: RDFit
Strap: Silicone