Sale!
Logitech C270 HD Webcam
Resolution: 720p at 30 frames per second
Megapixels: 0.9
Focus type: Fixed focus
Lens type: Plastic
Built-in mic: Mono
Mic range: Up to 1 meter

The diagonal field of view (dFoV):

 55°

Dimensions including fixed mounting clip:

 Height: 2.87 in (72.91 mm) Width: 1.26 in (31.91 mm) Depth: 2.62 in (66.64 mm)

Cable length:

 5 feet (1.5 meters)
Weight: 2.65 ounces (75 grams)
Description
Logitech C270 HD Webcam Price in Bangladesh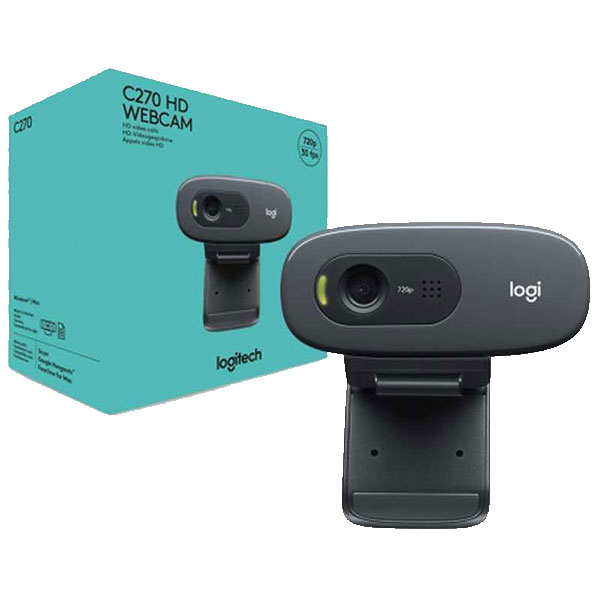 Logitech C270 HD Webcam Full Description
The Logitech C270 HD Webcam is a budget-friendly webcam that offers good video quality for basic tasks such as video calls and online meetings. It has a resolution of 720p at 30 frames per second, which is sufficient for most users. The webcam also features automatic light correction, which helps to ensure that you look your best in low-light conditions.
The Logitech C270 HD Webcam has a fixed focus lens, so you won't be able to zoom in or out. However, the field of view is wide enough (55 degrees) to capture your entire face. The webcam also has a built-in microphone with noise-canceling technology, which helps to reduce background noise during calls.
The Logitech C270 HD Webcam is compatible with most popular video conferencing software, including Zoom, Skype, and Google Meet. It is also relatively easy to set up and use. Simply plug the webcam into your computer's USB port and install the included software. The webcam will then be automatically detected by your computer.
Overall, the Logitech C270 HD Webcam is a good option for users who are looking for a basic webcam with good video quality and features. It is not the most expensive webcam on the market, but it offers good value for money.
SIMPLE HD VIDEO CALLS
The Logitech C270 HD Webcam gives you sharp, smooth conference calls (720p/30fps) in a widescreen format. Automatic light correction shows you in lifelike, natural colors.
WIDESCREEN HD 720P VIDEO CALLS
Crisp HD 720p/30 fps video calls with diagonal 55° field of view and auto light correction. Compatible with popular platforms including SkypeTM and Zoom®.
MONO NOISE-REDUCING MIC
The built-in noise-reducing mic makes sure your voice comes across clearly up to 1.5 meters(5 ft) away, even if you're in busy surroundings.
AUTO-LIGHT CORRECTION
C270's RightLightTM 2 feature adjusts to lighting conditions, producing brighter, contrasted images to help you look good in all your conference calls.
FIRM MOUNTING OPTION
The adjustable universal clip lets you attach the camera securely to your screen or laptop, or fold the clip and set the webcam on a shelf. You're always ready for your next video call.
Logitech C270 HD Webcam Full Specification
Model-  C270
Sensor Res-  3 MP
Video Res-  1280×720
Image Res-  640×480
Sensor Type-  CMOS
Interface-  USB 2.0
Microphone-  Yes
OS Supported-  Windows Vista / 7(32-Bit Or 64-Bit) / 8
Resolution: 720p at 30 frames per second
Megapixels: 0.9
Focus type: Fixed focus
Lens type: Plastic
Built-in mic: Mono
Mic range: Up to 1 meter

The diagonal field of view (dFoV):

 55°

Dimensions including fixed mounting clip:

 Height: 2.87 in (72.91 mm) Width: 1.26 in (31.91 mm) Depth: 2.62 in (66.64 mm)

Cable length:

 5 feet (1.5 meters)
Weight: 2.65 ounces (75 grams)
Logitech C270 HD Webcam Full Features
PURE AND SIMPLE HD VIDEO CALLS
WIDESCREEN HD 720P VIDEO CALLS
YOUR VOICE IS HEARD
LOOK YOUR BEST
FIRMLY FIXED
FLEXIBILITY THAT GOES BEYOND BUILT-IN
Logitech C270 HD Webcam In the Box Content
1 webcam with 5 ft (1.5 m) attached USB-A cable
User documentation