N09S Bluetooth Selfie Stick
400.00৳
Model : Selfie Stick (N09S) BT
Length: 19.5 – 100cm
Material: Stainless steel + ABS plastic
Weight: 150g
Cable: Mirco
Extendable up to 100cm
7 Days Warranty (If there are any Manufacturing Defects)
Description
N09S Bluetooth Selfie Stick Price in Bangladesh
The Bluetooth Selfie Stick N09S is a versatile and convenient tool for taking selfies and group photos. It is equipped with a fill light and Bluetooth remote control, making it easy to take great photos in any lighting condition.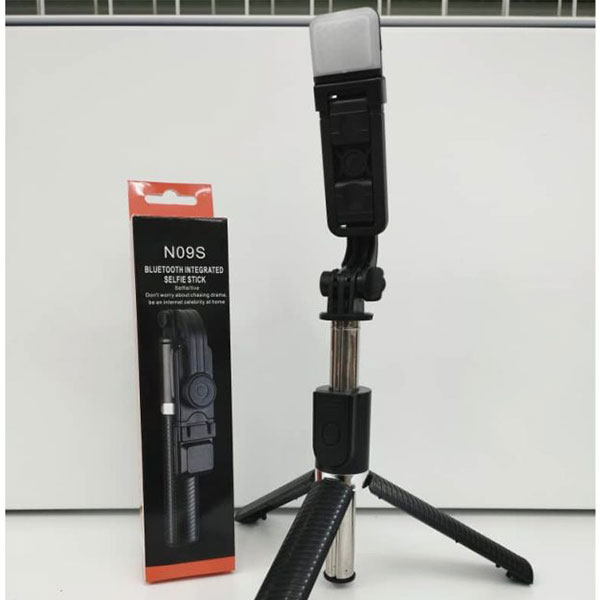 The selfie stick is made of high-quality aluminum alloy and is extendable up to 100cm, allowing you to capture the perfect shot from any angle. The fill light has three brightness levels, so you can adjust it to match the ambient lighting.
The Bluetooth remote control allows you to take photos and videos without having to touch your phone, making it perfect for group photos and self-portraits.
The Bluetooth Selfie Stick N09S is also very easy to use. Simply extend the selfie stick, mount your phone, and connect to the Bluetooth remote control. Once connected, you can start taking photos and videos by pressing the button on the remote control.
N09S Bluetooth Selfie Stick Specification
Model : Selfie Stick (N09S) BT
Length: 19.5 – 100cm
Material: Stainless steel + ABS plastic
Weight: 150g
Cable: Mirco
N09S Bluetooth Selfie Stick Key Features
Extendable up to 100cm
Fill light with three brightness levels
Bluetooth remote control
Compatible with most smartphones
Lightweight and portable