Sale!
Telesin GP-MNP-092-X Mini Selfie Stick for Action Camera
Brand: TELESIN
Model: GP-MNP-092-X
Shrinkage length: 13.2cm
Unfolded tripod height: 22.1cm
Applicable models: for GoPro and other sports camera
Material: PC+soft TPU
7 Days Warranty (If there are any Manufacturing Defects)
Description
Telesin GP-MNP-092-X Mini Selfie Stick Price in Bangladesh
Telesin GP-MNP-092-X Mini Selfie Stick is now available in Bangladesh. Get the original products at the most affordable price only at Techtunes.shop and enjoy the quality with the promise of the best customer service in Bangladesh.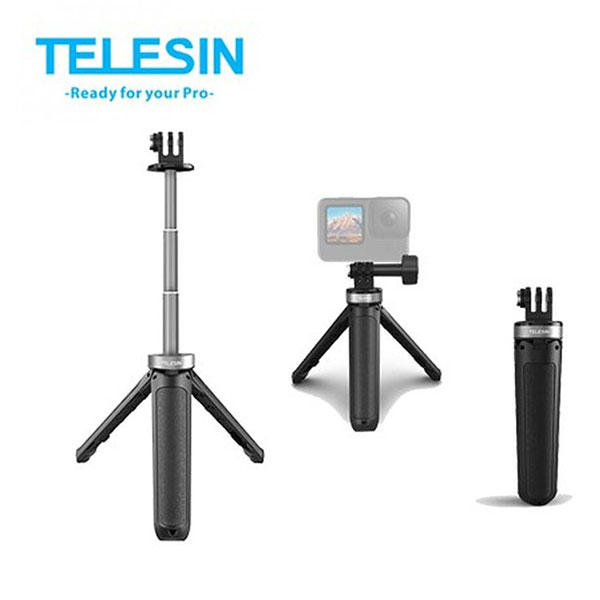 Telesin GP-MNP-092-X Mini Selfie Stick Key Feature
Multi-functional 2-in-1 Design: This multi-functional bracket can be used as a handheld extendable selfie stick or as a mini desktop tripod for action camera selfie, vlog, live streaming, etc.
Extendable and Adjustable: 3 sections telescoping design, the bracket can be extended from 13.4cm to 25.5cm as a selfie stick, very convenient and flexible to use.
Standard Action Camera Mount: Compatible with most action cameras on the market, and 2kg load capacity can securely support your camera video kit.
More Stable Tripod: The bottom tripod adopts 45° deployment angle, which is scientifically to be more stable, and reliable.
Mini & Lightweight: 13.4cm folding length and 61g net weight, mini size and light weight, very easy to carry around, perfect for travel use.
Telesin GP-MNP-092-X Mini Selfie Stick Specification
Brand: TELESIN
Model: GP-MNP-092-X
Shrinkage length: 13.2cm
Unfolded tripod height: 22.1cm
Applicable models: for GoPro and other sports camera
Material: PC+soft TPU